Corporate governance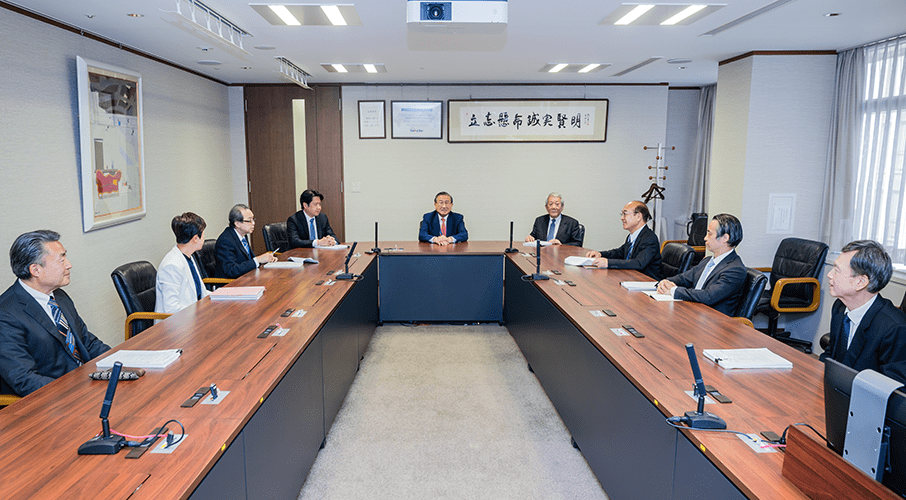 Basic approach to corporate governance
To increase the value of the company and gain the trust and support of the stakeholders including shareholders, customers, clients, and local communities, it is essential to establish a management structure that emphasizes sound management and allows for prompt and precise response to sudden changes in the management environment.
Corporate governance structure
Ferrotec Holdings is a company with a board of company auditors. As of July 1st, 2021, The Board of Directors of Ferrotec is chaired by Mr. He Xian Han, Representative Director, President, and Group CEO, and consists of nine members (including three outside directors): Akira Yamamura, Representative Director, and Chairman; Takeru Yamamura, Representative Director and Vice President; Hiroo Wakagi, Director; Takanori Suzuki, Director; Eiji Miyanaga, Director; Kuniaki Yanagisawa, Outside Director; Tatsuo Okada, Outside Director; and Iku Shimooka, Outside Director. In addition to the regular monthly meetings of the Board of Directors, extraordinary meetings of the Board of Directors are held on a flexible basis whenever important matters arise. The Board of Directors passes resolutions on important matters in accordance with the Board of Directors Rules, together with matters stipulated in laws and rules and the Articles of Incorporation, and supervises the status of business execution by each Director. All corporate auditors attend the Board of Directors' meetings and are able to monitor the status of business execution by the directors. The term of office of the directors is set at one year so that the company can promptly respond to changes in the business environment.
In terms of business execution, we currently have 9 executive officers (8 males and 1 female, including 4 directors (4 males)) who are responsible for their respective duties and divisions to clearly define the roles of divisions in business execution. The Executive Officers' Meeting is held every month to deliberate on important matters, including those to be discussed at the Board of Directors' Meeting.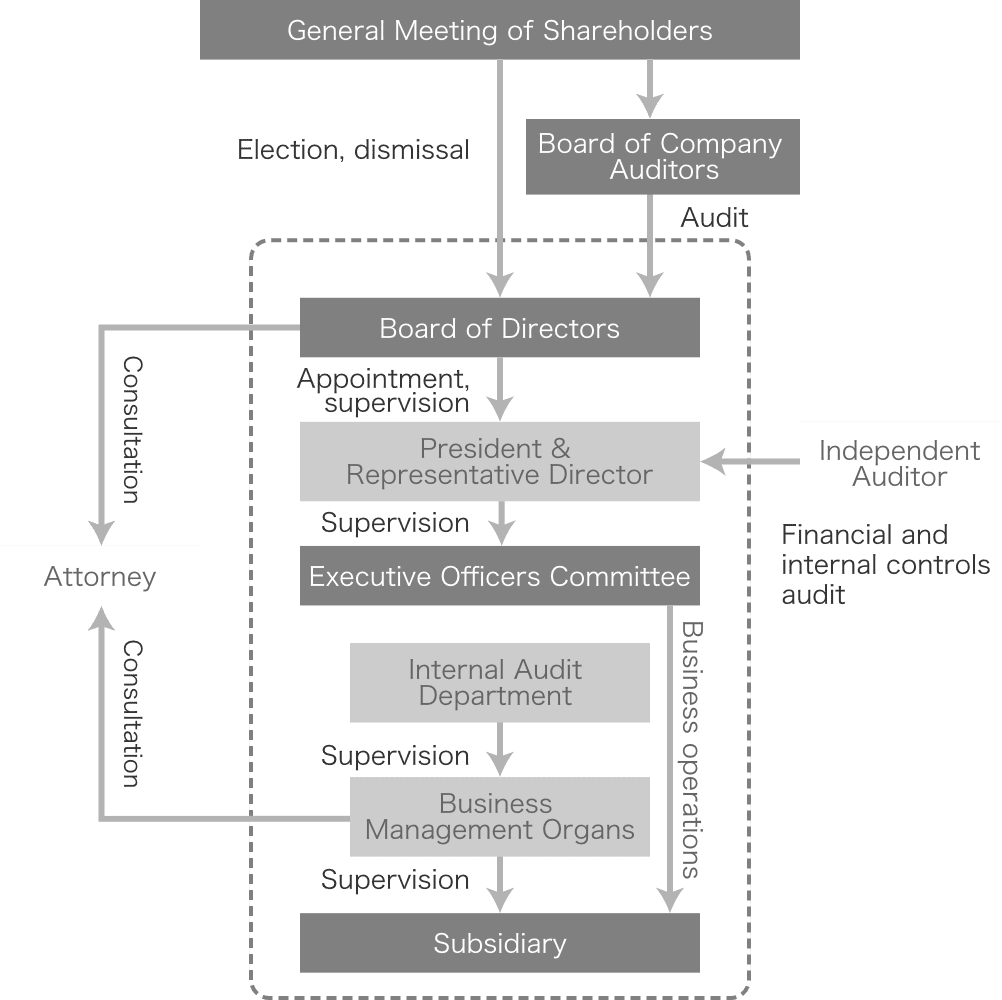 Basic concepts and current status of internal control systems
Ferrotec has established a basic policy for the establishment of an internal control system and has formulated various rules for all business operations, including "Compliance Guidelines", "Rules on Duties and Authorities", "Rules on Division of Duties", "Internal Information Management Rules", "Rules on Disclosure of Important Information", "Rules on Management of Trade Secrets", "Rules on Management of Confidential Information on Business Partners", "Basic Rules on Protection of Personal Information", "Policy on Response to Antisocial Forces", "Rules on Business Continuity Management in the Event of Disasters", "Security Export Management Rules", "Risk Management Rules", and "Internal Reporting Rules" to clarify the roles and responsibilities of each organization. Furthermore, in accordance with the amendment to the Corporation Law enacted on May 1, 2015, Ferrotec has revised its basic policy for the establishment of internal control systems, implemented internal checks based on the management control organization and other corporate governance systems for business execution and supervision, and developed a risk management system. With the legal advisory contract with Goto Law Office, we receive legal advice as necessary in the course of business. We also undergo accounting audits from EY Ernst & Young ShinNihon LLC, our accounting auditor, based on the audit contract, and receive reports on matters that are pointed out during and after the audit.
Chronological table of corporate governance
Board member
Auditor
Fiscal year
Item
In-house
External
Foreign nationality
Total
Ratio of external member
In-house
External
2001
Jun
22nd
A foreigner takes up a post as a board member
5
0
1
6
0%
1
3
2006
May
27th
The basic policy of the internal control system is established
5
1
1
7
14%
1
2
2007
Jun
28th
Retirement bonuses system for directors is abolished Contracts for Limitation of Liability conclusion system for non-executive directors and auditors is introduced
6
1
1
8
13%
1
2
2008
Apr
29th
Compliance guideline is established
6
1
1
8
13%
0
3
2008
Oct
29th
Internal control committee is established, provision is established
6
1
1
8
13%
0
3
2009
Jun
30th
1 year of director's term of office is introduced Compensation committee is established
6
2
1
9
22%
0
3
2011
Jun
32nd
A woman takes up a post as a corporate officer for the first time
3
3
1
7
43%
0
4
2013
May
34th
Independent officer assignment standard is established
3
3
1
7
43%
0
3
2015
Jul
36th
The corporate governance report is submitted
6
2
1
9
22%
0
3
2018
Mar
38th
Effectiveness of the board is evaluated by an external agency
5
2
1
8
25%
0
3
2019
Jun
40th
Share-based payment system with restriction on transfer is introduced
5
2
1
8
25%
1
2
2020
Jan
40th
Risk management commission is set up, provision is established
5
2
1
8
25%
1
2
2021
Jun
42th
First Female Director elected on the board
6
3
1
9
33%
1
2