Corporate governance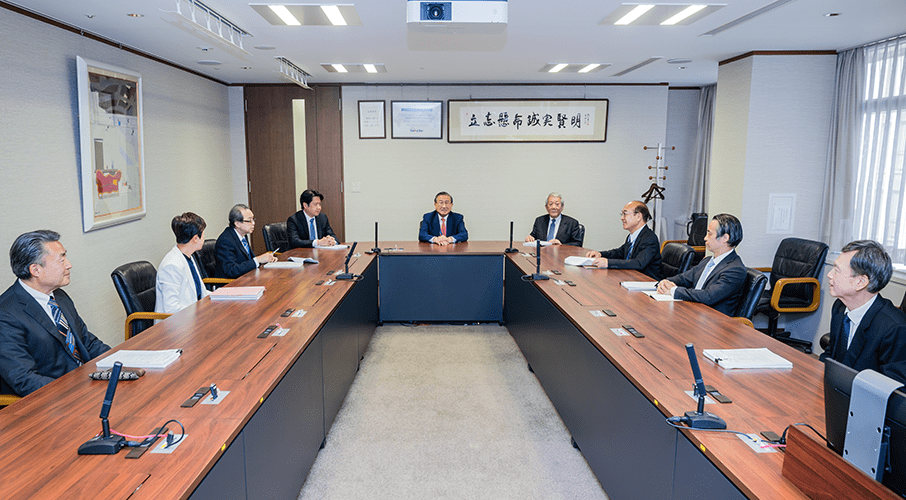 Basic approach to corporate governance
To increase the value of the company and gain the trust and support of the stakeholders including shareholders, customers, clients, and local communities, it is essential to establish a management structure that emphasizes sound management and allows for prompt and precise response to sudden changes in the management environment.
Corporate governance structure
Ferrotec Holdings is a company with a board of company auditors. As of August 1, 2020, the company has 8 directors, two of which are independent directors. To ensure prompt response to changes in the business environment, the terms of directors are one year. In addition to monthly regular board meetings, an extraordinary board meeting is held flexibly as an important matter arises.
As of August 1, 2020, 10 executive officers (consisting of 9 males and 1 female, including 5 directors (4 males)) are assigned as the persons responsible for their respective duties and/or department for a clear division of roles in the execution of operations. Ferrotec Holdings is a company with a board of company auditors. As of August 1, 2020, the board of company auditors consists of three auditors (including one full-time auditor), all of which are external auditors for enhanced corporate governance.
The company receives legal advice as needed in the course of business based on a legal advisory agreement with Gotoh Law Office. The company is also audited by an accounting auditor, Ernst & Young ShinNihon LLC, based on an audit agreement. As a firm listed on Tokyo Stock Exchange JASDAQ Standard, it makes every effort to disclose information without delay in the case of an event as specified in the disclosure rules.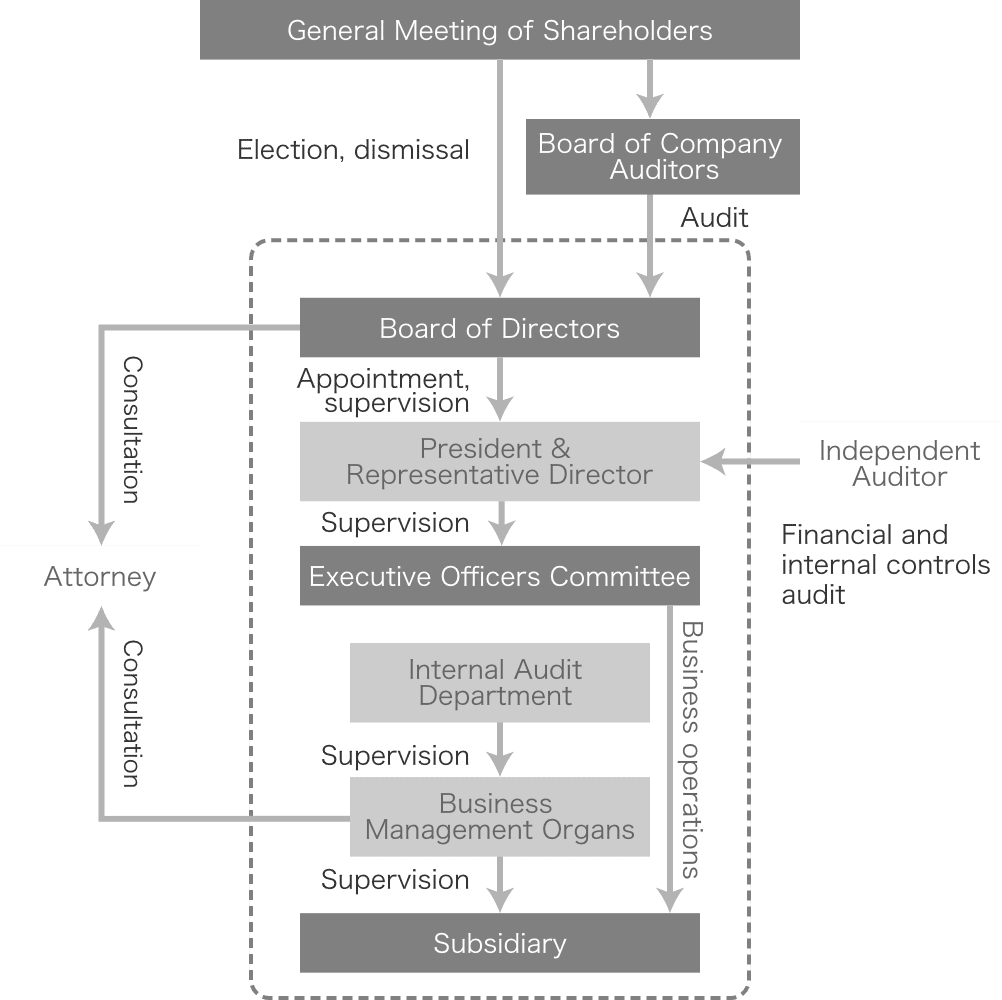 Basic concepts and current status of internal control systems
The company has established a variety of rules related to all operations, such as the Rules for Administrative Authority, Rules for Division of Duties, Rules for Internal Information Management, Rules for Whistle-Blowing, Basic Rules for Personal Information Protection, Policy on Dealing with Anti-Social Forces, and Rules for Disaster Recovery and Business Continuity Management, clearly defined the roles and responsibilities of each organization, implemented internal control based on the corporate governance structure including business management organs related to the execution and supervision of operations, and implemented risk control systems.
Chronological table of corporate governance
Board member
Auditor
Fiscal year
Item
In-house
External
Foreign nationality
Total
Ratio of external member
In-house
External
2001
Jun
22nd
A foreigner takes up a post as a board member
5
0
1
6
0%
1
3
2006
May
27th
The basic policy of the internal control system is established
5
1
1
7
14%
1
2
2007
Jun
28th
Retirement bonuses system for directors is abolished Contracts for Limitation of Liability conclusion system for non-executive directors and auditors is introduced
6
1
1
8
13%
1
2
2008
Apr
29th
Compliance guideline is established
6
1
1
8
13%
0
3
2008
Oct
29th
Internal control committee is established, provision is established
6
1
1
8
13%
0
3
2009
Jun
30th
1 year of director's term of office is introduced Compensation committee is established
6
2
1
9
22%
0
3
2011
Jun
32nd
A woman takes up a post as a corporate officer for the first time
3
3
1
7
43%
0
4
2013
May
34th
Independent officer assignment standard is established
3
3
1
7
43%
0
3
2015
Jul
36th
The corporate governance report is submitted
6
2
1
9
22%
0
3
2018
Mar
38th
Effectiveness of the board is evaluated by an external agency
5
2
1
8
25%
0
3
2019
Jun
40th
Share-based payment system with restriction on transfer is introduced
5
2
1
8
25%
1
2
2020
Jan
40th
Risk management commission is set up, provision is established
5
2
1
8
25%
1
2