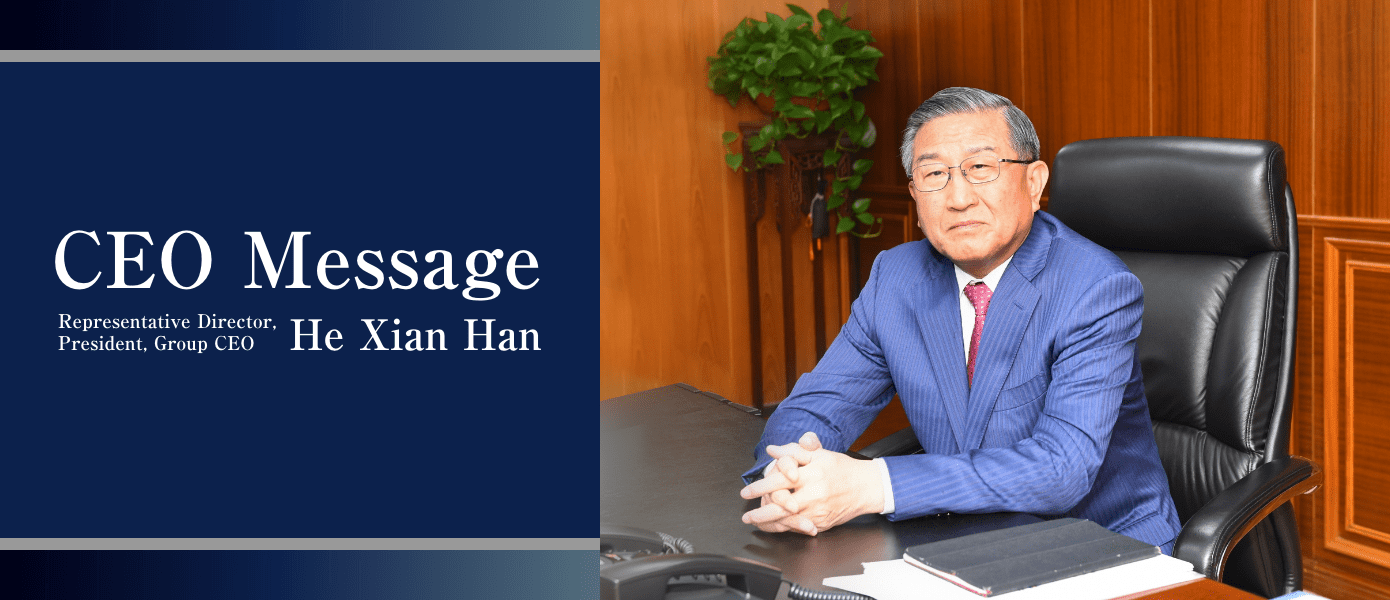 Message to Shareholders
I would like to thank our shareholders for their continued support. I also express my most sincere sympathy to all those affected by the current COVID-19 pandemic.
I am pleased to announce that we hereby deliver our financial statements for the 40th fiscal year.
My name is He Xian Han, and I have been appointed Chief Executive Officer of Ferrotec Holdings Corporation.
As Executive Vice President and Executive Director in Charge of Business Management, I have promoted the transformation of existing businesses and expansion of business areas, contributing to the growth of our group.
I would appreciate your cooperation as I continue to work to enhance our enterprise value.
I apologize for the late announcement of the financial statements.
This fiscal year, due to the impact of the COVID spread, some account closing procedures were delayed and accordingly, announcement of the financial results was postponed. I apologize for any inconvenience caused to our shareholders, investors and other stakeholders.
In the annual shareholders meeting, approval was granted to the resolution matters, as well as to a year-end dividend of 12 yen per share for the 40th period. In the same meeting, it was also approved that the matters to be reported, including consolidated financial statements, would be handled in a continuation meeting. Recently, the continuation meeting was concluded successfully.
In the electronics industry, to which our group belongs, capital investment by semiconductor manufacturers remained in an adjustment phase throughout the year, in part due to the prolonged U.S.-China trade frictions. The sales of our group's material products also slowed down. On the other hand, to meet the demands in the Chinese semiconductor market, a large-diameter silicon wafer plant was built in Hangzhou. The parts cleaning services for production equipment, such as LCD panels and microchips, performed well, contributing to the sales.
As for the mobile communication system industry, fifth-generation mobile communications have begun outside of Japan. Their improved communication rates will help to put telemedicine into practice. Our group provides the mobile communication system industry with thermoelectric modules, which are our core products utilized in communication equipment and relay equipment. The semiconductor industry can also be expected to recover, driven by an increase in the installation of data center servers.
We will strive to continue to be a company whose growth our shareholders look forward to, based on the basic management policy of the Ferrotec Group.
I ask for the continued support and encouragement of all our shareholders.
He Xian Han, President and Group CEO
August 2020